Where did I put my Glasses?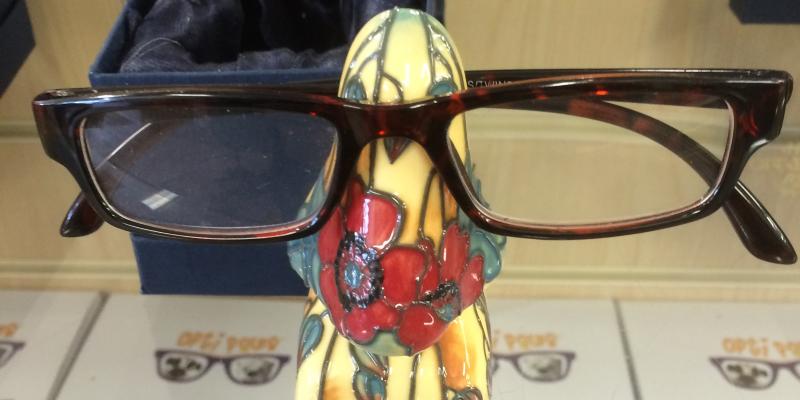 PUBLISHED: Sep 24, 2015
Always looking for your glasses? Try keeping them on one of these unusual spectacle holders! There are two different styles - funny, characterful ones, and elegant style holders that wouldn't look out of place in the most stylish of homes.
This black coloured happy looking Labrador is dying to provide a new home for your glasses!
The cute little blue and white fellow is one of a series of Dinosaur spectacle holders that will appeal to adults and children alike.
Another enthusiastic canine holder, this one looks like a German Shepherd.
Green and lilac Dinosaur holder.
For lovers of Meerkats, there's a Meerkat holder for your glasses and she's poised ready to take them.
Just in time for the Rugby World Cup, here's a rugby styled holder for your glasses so you can read the paper in between matches!
This pink and white Dinosaur must surely be a girl she's so pretty.
The orange and yellow Dinosaur holder looks a quiet fellow.
Whilst she looks like she's off out for a walk, this yellow dog will still take good care of your spectacles when you're not wearing them.
Best described as very cute, this green and yellow Dinosaur holder will perhaps be particularly popular with our younger customers.
We even have a Pug spectacle holder for fans of the soulful look.
When we referred to an elegant styled spectacle holder, this is the sort of thing we meant! The detailing is gorgeous and it comes in a lovely presentation box. If you're looking for a novel but beautiful gift for someone who wears glasses and mislays them from time to time, this would make a great gift.
Here's another colour option in the elegant styled holders - seen in action holding a pair of glasses! When not in use, we believe these make a rather attractive ornament that would not look out of place in the most stylish of rooms.
Come into the garden centre and pick up yours today!